April 10th would have been Mom and Dad's 57th Wedding Anniversary. Dad will be celebrating in Heaven. Mom is now in a one-room "apartment" in an assisted living facility. Last year I sent a floral arrangement containing yellow roses since that is what Dad always gave her. The card said what I think he would have wanted her to know. That he still loves her and always will. One day they will be reunited in Heaven in God's time.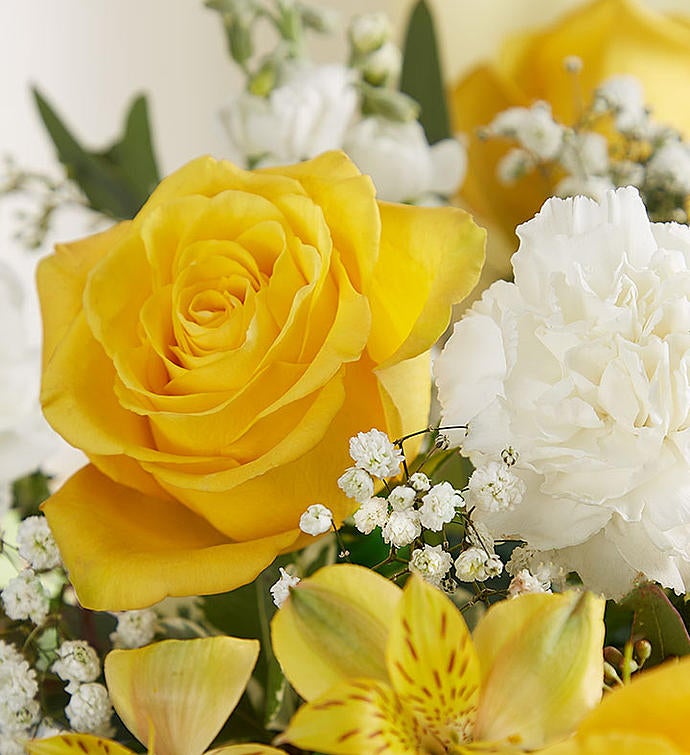 Several of the ladies at the facility delivered them to her. At first, she laughed, and then she cried. She's blind but the sweet fragrance of the flowers were comforting, I'm sure. I am sure the ladies described the arrangement and she was pleased.  However, the memories came rushing back.
It is so difficult to know what to say or to do. I had prayed about it for weeks. was afraid that flowers would make her cry again, so yesterday, I called her. Actually, I called her 20 times! I couldn't reach her until around 9pm when they give her a sleeping pill. The phone had been off the hook! I was concerned that she was depressed, or that another round of Covid had hit her floor, and that she had been moved to another room without my knowledge. (That happened a few weeks ago!) But it wasn't bad news after all and I was so thankful! She was fine! We talked for over an hour. What a joy!
After we said goodnight, Philippians 4:4-7 came to mind. (I love this in the Amplified Bible and am quoting from this tonight. I'm really a King James gal!)
"Rejoice in the Lord always [delight, take pleasure in Him]; again I will say, rejoice! Let your gentle spirit [your graciousness, unselfishness, mercy, tolerance, and patience] be known to all people. The Lord is near. Do not be anxious or worried about anything, but in everything [every circumstance and situation] by prayer and petition with thanksgiving, continue to make your [specific] requests known to God. And the peace of God [that peace which reassures the heart, that peace] which transcends all understanding, [that peace which] stands guard over your hearts and your minds in Christ Jesus [is yours]." Philippians 4:4-7
They would have been married 57 years and he called her Sweetheart as long as he lived.
There wasn't a beautiful Church wedding with a gorgeous wedding gown and bridesmaids. The only flowers were the corsage Jerry bought for her on that beautiful April morning. Mom wore a pretty suit and he wore his best suit. They were married in the parlor of a Methodist Pastor with the Pastor's wife as their only witness.
They had only dated a few weeks and even though she had a seven-year-old daughter, he decided he couldn't live without her. He knew she would be his sweetheart forever.
Let Me Call You Sweetheart
Written 1910
Composer Leo Friedman
Lyricist Beth Slater Whitson
The complete lyrics:
I am dreaming Dear of you, day by day
Dreaming when the skies are blue, When they're gray;
When the silv'ry moonlight gleams, Still I wander on in dreams,
In a land of love, it seems, Just with you.
Let me call you "Sweetheart," I'm in love with you.
Let me hear you whisper that you love me too.
Keep the love-light glowing in your eyes so true.
Let me call you "Sweetheart," I'm in love with you.
Longing for you all the while, More and more;
Longing for the sunny smile, I adore;
Birds are singing far and near, Roses blooming ev'rywhere
You, alone, my heart can cheer; You, just you.
Let me call you "Sweetheart," I'm in love with you.
Let me hear you whisper that you love me too.
Keep the love-light glowing in your eyes so true.
Let me call you "Sweetheart," I'm in love with you.
Let Me Call You Sweetheart Pat Boone and Shirley Jones
I wrote the original Sweetheart blog post before dad closed his eyes while sitting with Mom and awoke in Heaven! I know he is waiting to hold her hand again and call her "Sweetheart" as he leads her to see our Lord face to face!
He still calls her his Sweetheart today. They reside in the same home they bought in 1970 and he is determined to take care of her. You see, Mom lost her sight a few years ago and he does everything for her. No one can take his place. This is "home" and they both refuse to move into assisted living where life would be more stable in my estimation.
Mom's kitchen has produced thousands of meals over the years. Their home was the gathering place for Mom's family. When anyone came to visit, they stayed there. The house is small but oh, the delicious smells that came from that kitchen! Laughter, singing, cooking, and also shed a few tears when we said goodbye to loved ones. There are many memories in that old house. We have so many sweet memories!
This slideshow requires JavaScript.
Dad did everything he could for Mom even when it took every ounce of energy because he loved her. He wanted to protect her. It would have been better for them physically to live in assisted living but they wanted to remain "Home." Home is filled with sweet memories!
Please pray with me for Mom when you this. She still misses her  "Sweetheart" and the house that she made into a home for all of us. That she will be filled with joy as she remembers those precious times together.
She loves listening to Bible Broadcasting Network on the radio. She listens to BBN all day! So this is my prayer for her in 2021.
"Finally, believers, whatever is true, whatever is honorable and worthy of respect, whatever is right and confirmed by God's word, whatever is pure and wholesome, whatever is lovely and brings peace, whatever is admirable and of good repute; if there is any excellence, if there is anything worthy of praise, think continually on these things [center your mind on them, and implant them in your heart]. The things which you have learned and received and heard and seen in me, practice these things [in daily life], and the God [who is the source] of peace and well-being will be with you." Philippians 4:8-9 (Amplified Bible)
I love you, Mom. Keep listening to God's Word and singing along with the hymns on BBN. I hope to sing with you again soon!
Love Always
Kathy